Art & Design: A Talk with Designer Linda Merrill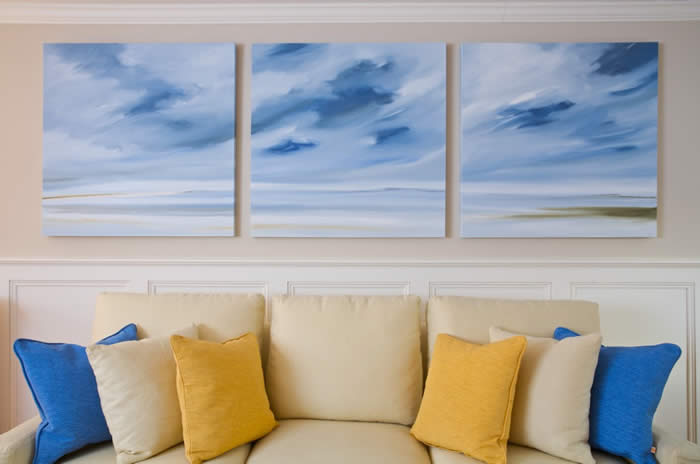 Effect, Interior Commission and Installation, Osterville, Massachusetts 36" x 108" x 1.5"
Award-winning designer Linda Merrill will be joining me in two upcoming talks about Incorporating Fine Art Into Your Interiors.
Two talks are scheduled: Tuesday, Nov. 5, at 5:30 p.m. at Snow & Jones designer showroom in Norwell, 85 Accord Ave.
Saturday, Nov. 9, at 1-0:30 a.m. at the Snow & Jones designer showroom in South Yarmouth, 167 White's Path (Postponed)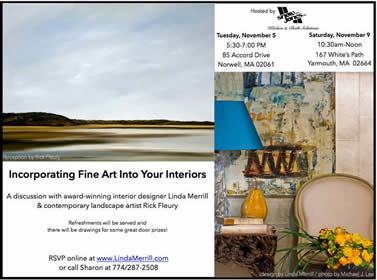 The talks are being sponsored by Snow & Jones Kitchen & Bath Solutions, a premier destination for luxury kitchen and bath needs,
serving the South Shore and Cape Cod since 1952.
The talks will cover a broad range of subjects including placement, lighting, interior design, digital technology, selection, resources,
and getting started in developing working relationships with designers and artists.
"The talk is geared to anyone interested in starting a personal or corporate collection, using pieces they already own, and everything
in between," says Merrill, owner and designer of Linda Merrill Decorative Surroundings, based in Duxbury.
The one-hour talk, followed by a Q&A and open discussion is free and open to the public. Refreshments will be served, and several
great drawing prizes will be offered. Pre-registration is required. To register, visit www.lindamerrill.com, or call Sharon at 774/287-2508.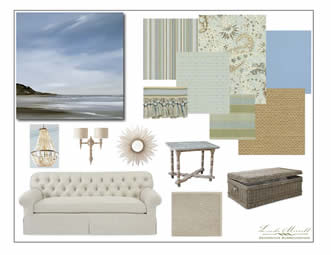 Bedroom Schematic by Linda Merrill Decorative Surroundings
based on Respite (Femine Design Board).
Bon Sejour Home: Interior Design News