"Dialogue X" Meets Robert Schumann
in Concert with Pianist Michelle Kelley at Steinert Hall, Boston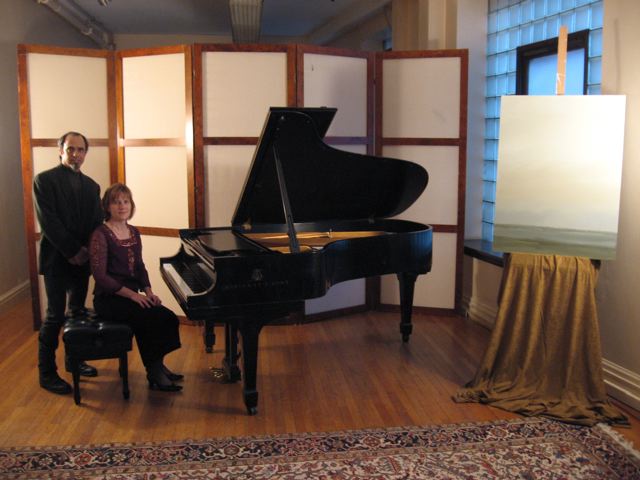 Steinert Hall, Boston Artist and Painting (now in private collection) with Steinway Pianist Michelle Kelley
In a unique collaboration of visual art and music, "Dialogue X", one of my most
recent works, and a "self-portrait," became part of the March 24 program of composer Robert Schumann,
sponsored by Steinway & Co.and M. Steinert & Sons, at Steinert Hall, Boston -- one of the nation's oldest -- and Boston's most legendary -- concert halls.
The "Informance" featured the incredibly talented pianist Michelle Kelley on a Steinway concert grand, and
guest soprano Charlotte Russell, to round out the collaboration of music and art. M. Steinert & Sons is the oldest
retailer of Steinways in the United States, opening in Steinert Hall in 1890. It is said that Rachmoninov once
performed in the original Steinert Hall on the lower level. This original space was the design inspiration for Boston's
famed Jordan Hall.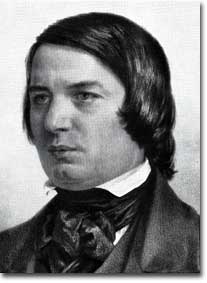 Robert Schumann
1810 - 1856
Considered one of the most romantic composers of the nineteenth century, Schumann was
little understood in his lifetime. Introspective, and often whimsical, his music is now regarded
as daringly original in harmony, rhythm and form. Dialogue X, a 2007 painting in the artist's Rothko
Dialogue Series, was selected for this concert with the idea that it reflected some of this composer's
classical forms and structure as well as his complexities as an artist, composer, and as a man.
Ms. Kelley received a standing ovation for her stellar performance, which took place Saturday, March 24,
at 7 p.m. at Steinert Hall, Boston, 162 Boylston Street, across from the Boston Common.
Future concert collaborations are slated for the fall.
For more information, contact M. Steinert & Sons at 617/426-1900, or visit their website at www.msteinert.com.