Natural Inspirations

Freedom Baker's Pond, Orleans Oil on Canvas, 16 x 40 x 1.5 Sold
Natural Inspirations: An Artist's Journey, a one hour talk on the artist's thoughts and views of how Cape Cod continues to be
an endless inspiration for his work; and how he hopes to heighten awareness of the environment and the natural beauty of
Cape Cod through his interpretations on canvas. The artist Incorporates historical context through the landscape painters
of the Hudson River School, and nature writers Thoreau and Emerson, and how they laid the foundation for conservation and
preservation in America – leading to the creation of our first national parks.
This multi-media presentation includes paintings, quoted text and an open discussion.
The talk was developed for Orleans Pond Coalition's Fifth Annual Celebrate Our Waters Weekend, celebrating and heightening
awareness of the area's valuable water resources. The talk took place Sunday, September 21, at the Orleans Historical Society
Museum, Orleans, MA. Future engagements for this talk are being discussed.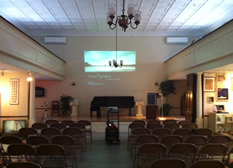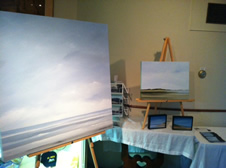 _____________________________
"Left with quotes and thoughts floating around in this brain:
"Yes… you should consider expanding on the talk you just gave...do a book full of your paintings and essays on your thoughts / feelings regarding the environment and include the quotes.
It's pretty powerful " stuff"! SO meaningful...both timeless and TIMELY...
Education and a talk like the one you just did, matters...it CAN change thinking...one person at a time...saving one starfish at a time.
Paint more! Write more! Give more talks!" – MR, Brewster, MA

"Rick! I thoroughly enjoyed your presentation today, especially since it encompassed several of my personal favorites, art, nature, and quotes.
I'm looking forward to exploring the places you described and have painted on the Lower Cape. Thank you!" – EC, Sandwich, MA
_____________________________

Orleans Pond Coalition
Orleans, Massachusetts