Cahoon Museum's Twenty-Five for Twenty-Five

Twenty Five for Twenty Five: Artists Salute the Cahoon Museum of American Art
In honor of the museum's twenty-fifth anniversary, this artist was one of twenty-five Cape and regional artists
to come together to celebrate one of this region's finest museum's of American art. Running from November 10 through December 30,
each artist exhibited two works, one of which was donated as a new acquisition to the museum's permanent collection.
The artist also gave a talk, along with a Powerpoint presentation, as part of the exhibition's artist series.
Entitled, The Essence of the Landscape, the talk focused on the artist's themes, progressions and inspirations.
The artist has selected Autumn Shadows, below, as his gift to the Museum's permanent collection. The piece will remain in active rotation
at the Museum.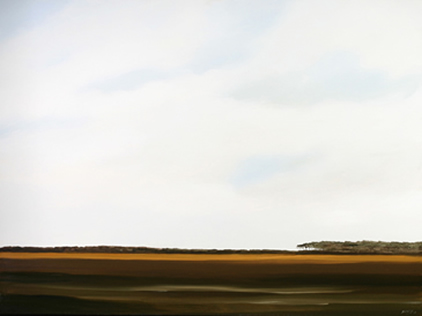 Autumn Shadows
Oil on Canvas, 30" x 40" x 1.5"
Fox Island Marsh, Wellfleet
The Cahoon Museum of American Art is located at 4676 Falmouth Road in Cotuit.
Call 508/428-7581, or visit CahoonMuseum.org, for more information.