Workshops & Teaching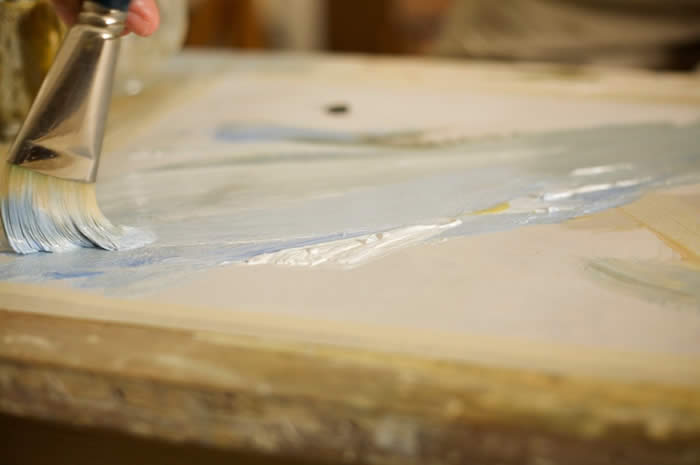 Bringing the Landscape Into the Studio: A Weekend Workshop with Rick Fleury, a two-day intensive, focuses on developing the skills
of capturing the Outer Cape landscape through photography, sketches and field notes, as well as through memory and visualization,
and translating that information on to the canvas. The most recent workshop, held September 28 & 29th, shown below, was part
of the PAAM Museum School's Artists In Their Studios program. The workshop was filled, with waiting list – Hope to accomodate those
that couldn't attend next time around! The studio continues to welcome private lessons and small groups throughout the winter months.
Call the studio at 774.207.0883 or email rick@rickfleury.com for more information.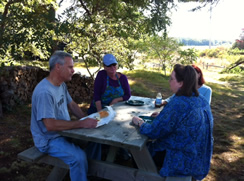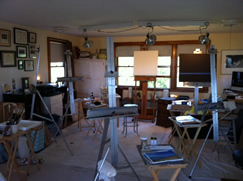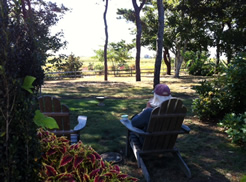 Photos from Day One, September 27, 2014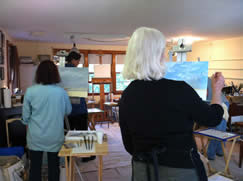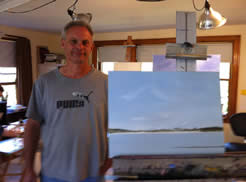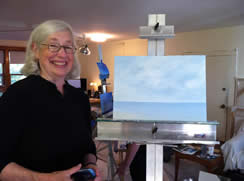 Photos from Day Two,, September 28, 2014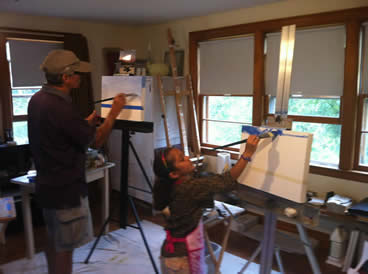 Semi-private Lessons with Joe Falcone and grand-daughter, Amaya
2015
Bringing the Landscape Into the Studio: A Weekend Workshop with Rick Fleury
Creative Arts Center, Chatham, Massachusetts June 13-14, 2015
Thanks to all for another excellent workshop, with exceptional talent.
For information on other workshops and events: www.capecodcreativearts.org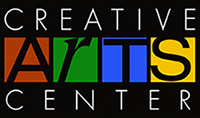 What students are saying...
"The studio pulsates with an indescribable energy during the course of a Rick Fleury workshop!
Time flies fast yet each student is left, at the end of the workshop, " filled up" both intellectually and emotionally with a desire to continue painting...continue growing.
Rick is an inspiring and generous teacher. I would highly recommend his painting workshops! One is left with " yes! I want more!"
– Monica Rozak, North Chatham, Mass.
"Thank you SO much for another wonderful, inspiring class. Am still on a high from it!"
– Catherine Reurs, Cambridge, Mass.
"Last week I attended a 2 day workshop at Rick Fleury's studio nestled among the marshes of North Eastham close to the Audubon Sanctuary.
Immediately his friendly welcome brought me into his world of waving marsh grass, open space, and lots of sky and sea.
We were in a Rick Fleury painting.

Over the next two days I learned his limited and unique pallete; saw the stroke of his brush, creating at once a unique but familiar landscape.
Quiet in color, sweeping in gesture and achingly lovely - he captures the Cape.

After his demonstration we couldn't wait to put brush to canvas. There was no hesitation as we were inspired by his fearlessness to get paint applied.
The results were all favorable as we all accepted his palette and theories, and successfully applied them to our own individual style.

I have participated in many workshops, but this one truly stands apart. Rick is an excellent and generous teacher
whose easy style and warm personality creates a space that's safe and creativity can flourish."
– PAAM Museum School, Workshop Student Evaluation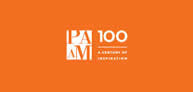 Provincetown Art Association and Museum
Provincetown, Massachusetts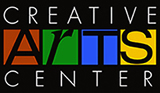 Creative Arts Center
Chatham, Massachusetts