News & Updates
Fall 2023
Louisa Gould Gallery: Martha's Vineyard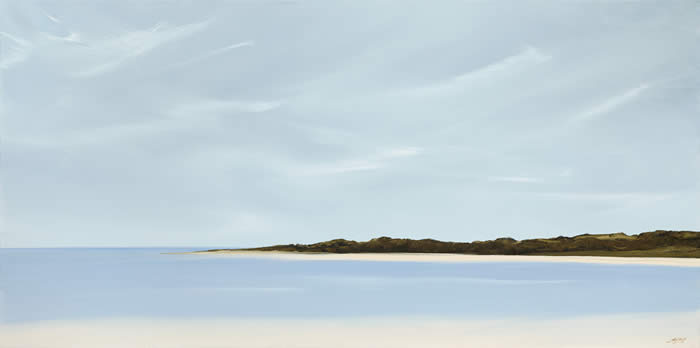 Theory Oil on Canvas, 18" x 36" x 1.5"
A new collection of works, both on canvas and copper, have arrived on the Vineyard for 2023.
The collection highlights the beauty of the Vineyard from Chappaquiddick to Aquinnah. All of the new work is now on this website,
and will join the gallery's active website as new arrivals arrive.
Click HERE for the gallery website, and links to current available work, exhibitions and the latest inventory..
• • •
An invitation in 2017 to join the gallery's roster marks a return to the Vineyard after more than twenty years. The artist first began a career in
journalism on the Island, as a reporter for the Vineyard Gazette beginning in 1984. He also served as the Vineyard correspondent
to the Cape Cod Times and The Boston Globe, and, later, headed his own advertising and marketing firm there for several years.
"I rarely seek out an artist, but I've always loved Rick's work," says Ms. Gould. "I'd seen his work at a gallery in Newburyport.
I had a jpeg of one of his paintings on my desktop for years."
"It's a great feeling returning to such an important place to me after so many years, no longer as a writer, but, now, as a painter –
still focused on conservation, open space, and the environment, and projecting that through my work," says the artist.
For more information, contact the gallery at 508.693.7373, or visit them online at LouisaGould.com.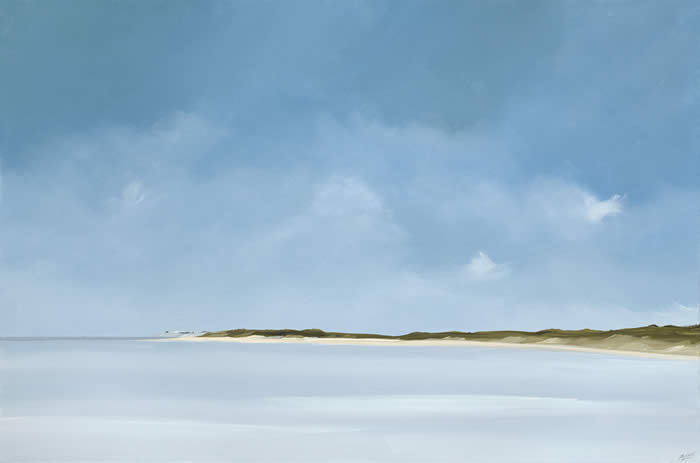 Esprit   oil on canvas 24" x 36" x 1.5" Squib I oil on copper, 7" x 5"
South Shore, Chilmark Squibnocket Pond, Chilmark
"The Louisa Gould Gallery added two new artists this year, each with a distinctive style. Painter Rick Fleury creates seascapes
in a minimalist contemporary style featuring calm seas, filtered light, and a luminosity that truly captures the Island look. Although 
he has been represented by galleries and museums around Cape Cod, Boston, and elsewhere for years, this is the first time
that the member of Boston's Copley Society of Art has shown on the Vineyard."  –  A Look at Notable Exhibits and Artists in 2017
                                                                                                       Gwyn McAllister
                                                                                                       Martha's Vineyard Times
                                                                                                       December 30, 2017
A Look at Notable Exhibitions and Artists in 2017
Artist Rick Fleury makes his way back to the Vineyard - Feature
Spring Into Summer at Louisa Gould Gallery
Louisa Gould Gallery
Martha's Vineyard
Cape Cod Life Arts Annual 2020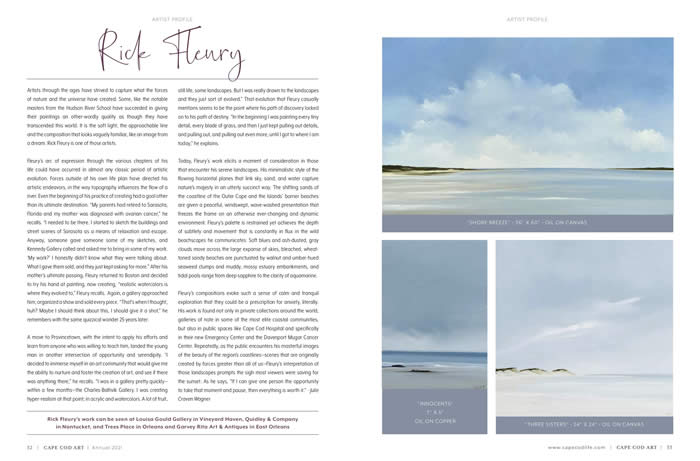 Click here for full pdf version.
The Walsingham Gallery: Newburyport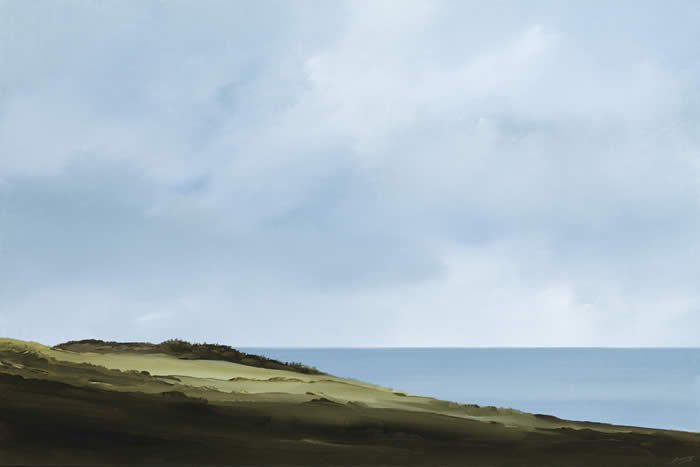 Onward oil on canvas 24" x 36" x 1.5'
Recent Solo Exhibition, Featured in NorthShore Magazine
The Walsingham Gallery Newburyport, on the north shore of Boston, continues to feature the artist's work in
pop-up shows in a variety of venues in Newburyport, and online. A wintert solo exhibition, "Uninterrupted Tranquility,"
in conjunction with Caldwell Banker at 47 Merrimac Street, Newburyport proved to be a great success. The show,
which opened Friday, December 6, was slated to run through February 29, 2020, but has been extended.
More than 15 pieces on canvas and copper were included in the exhibition. A number of works are still available
through the gallery. View current inventory here.
Walsingham has represented the artist for more than seven years, in Newburyport, and online at 1st Dibs, a vetted
international website for fine art and collectibles.
For inquiries, and availbable works, visit www.walsinghamgallery.com, or contact the gallery directly at
sales@thewalsinghamgallery.com, or by calling 978.499.4411.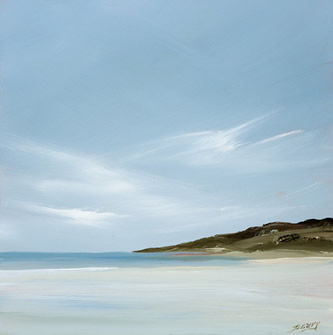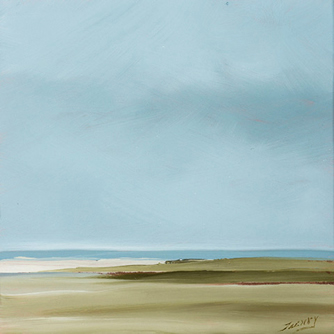 Escape oil on copper 8" x 8" Back Shore, Wellfleet Sold Inlet oil on copper 6" x 6" Plum Island, Newburyport
Horizon Fine Art: Jackson Hole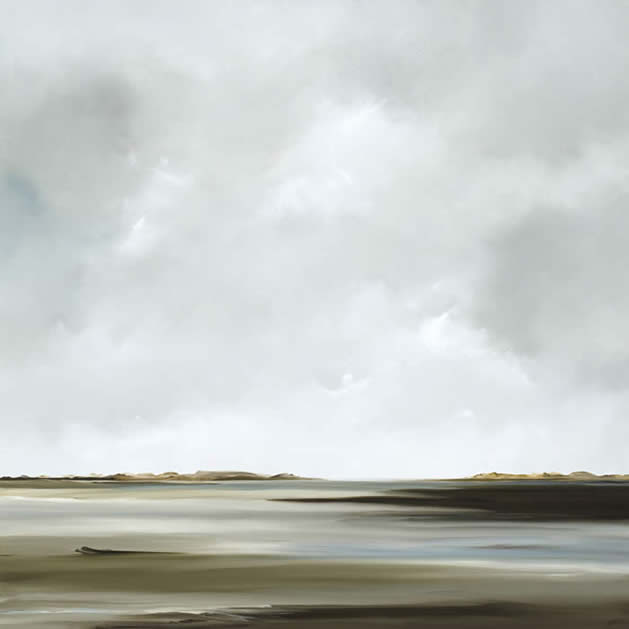 Passages Oil on Canvas 40" x 40" x 1.5" (41" x 41" x 2" Framed)
Horizon Fine Art is located just off the Town Square in the fashionable resort town of Jackson Hole, Wyoming. Check out the current
inventory online at Horizon Fine Art.com or contact the gallery at 307.739.1540.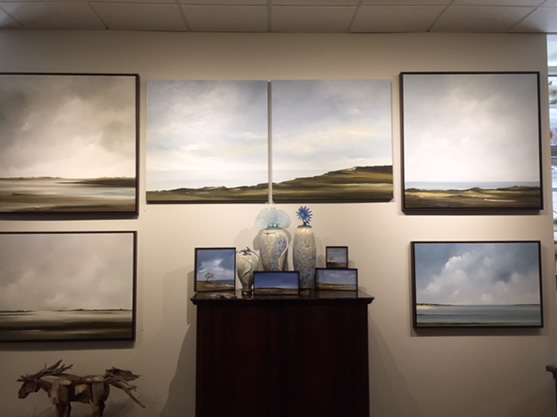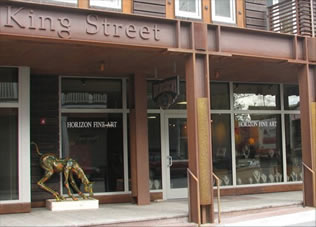 Season-Opening Gallery Installation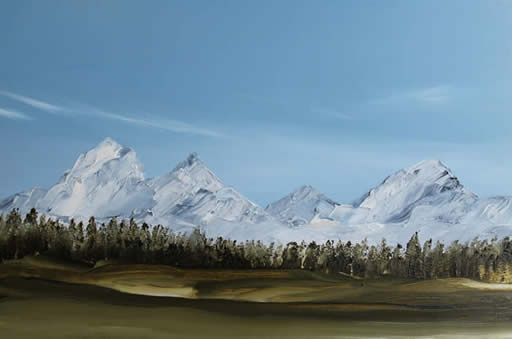 Mesa Grand Tetons Oil on Brushed Aluminum 8" x 10" Sold

Horizon Fine Art Gallery
Jackson Hole, Wyoming
Kristin's View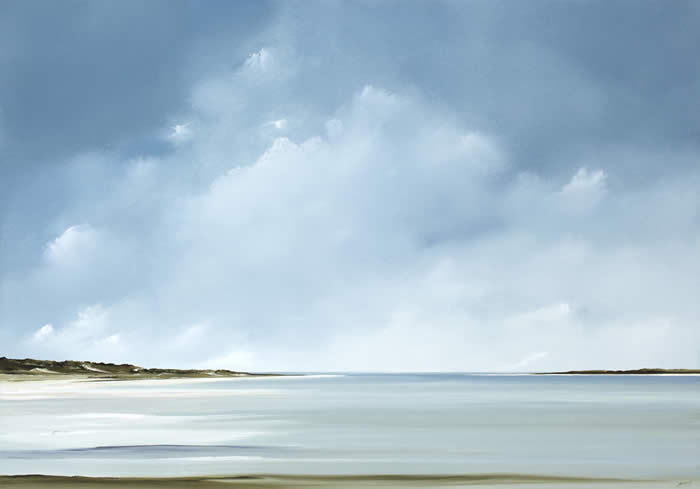 Kristin's View oil on linen 28" x 40" x 1.5" private commission
Kristin's View, a private commission for a home in Chatham, Massachusetts. The painting depicts Chatham's Pleasant Bay,
with barrier beaches separating the bay from the open sea. The client requested an airy piece, incorporating blues and taupes
of the home's formal living room. In keeping with the formality and clean lines of the space, as well as the brushed nickel fixtures
and accent pieces, the painting was framed in a brushed silver floating frame, narrowly exposing the painted side edges of the piece.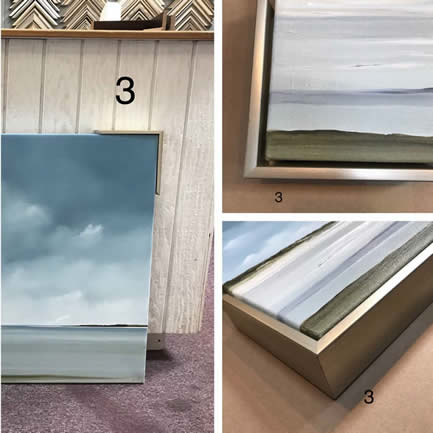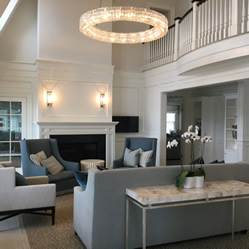 Oil on Copper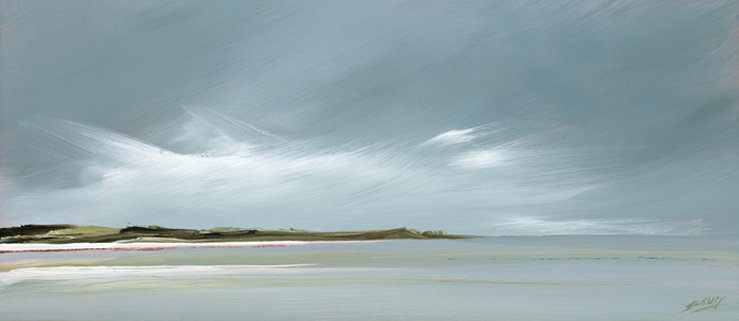 Access Oil on Copper 5 x 12 Walsingham Gallery / 1st Dibs Sold
New Coppers continue in the studio and head to galleries on an ongoing basis. Ranging in size from the 5" x 7" Copperplates, to larger works
known as Copperworks, the inventory is fresh, concentrating on some of the artist's favorite places on the New England Coast and
the Grand Tetons. View the latest work on copper in the Oil on Copper portfolio section of this website.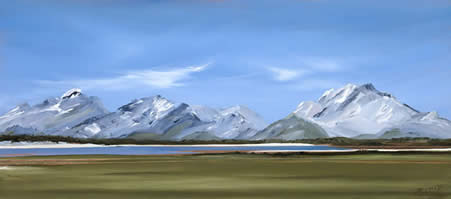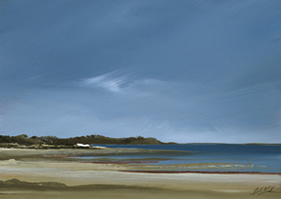 Teton Highlands Oil on Copper 5 x 14 Horizon Fine Art Sold Stance Oil on Copper 5 x 7 Tree's Place Sold
National Licensing and Print Distribution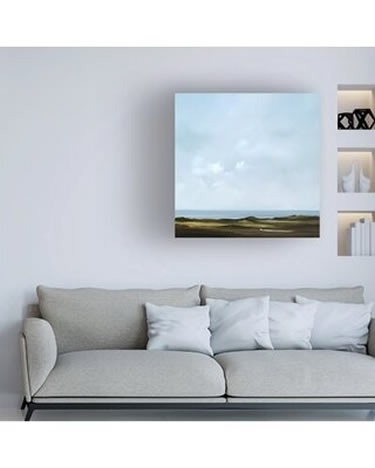 Sanctity, by Rick Fleury Shop Better Homes & Gardens (BH&GShop)
The artist is signed and published with a national fine art publisher and industry leader, selling and distributing open edition prints to retailers worldwide.
Prints in various substrates and price points are now available through top national fine art distributors, home decor websites, and major retailers.
An initial release reported a "great response" to top buyers, and availability continues to expand through major distribution channels.
Prints, on paper, canvas and other substrates are now available, and may be found in print and frame shops, large home and office retailers, and
targeted clients in the hospitality and healthcare industries.
A second release of an additional 12 new images was launched in October of 2021.
"Framed Rick Fleury art have found their way into some of the most esteemed spaces in the world."
– FramedArt.com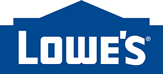 Prints now available at:
The Frame Center – Orleans, MA and Martha's Vineyard

Art.com
Major Online Retailers
Cape Cod Hospital: Home Free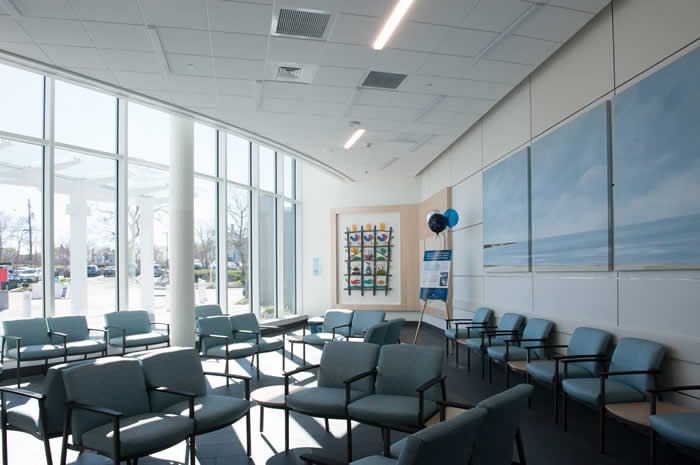 Courtesy Cape Cod Healthcare 2015
Home Free, a 66" x 198" x 1.5" triptych, serves as the lobby centerpiece of the new Emergency Center at Cape Cod Hospital, which opened to
the public in May of 2015. In addition to the triptych, 52 custom prints, spanning seven years of the artist's work, have been produced for the 52
acute care treatment rooms of the new $22 milliion state of the art facility. The prints are 22" x 30" in a contemporary format of metallic chromium
on acrylic.
"This triptych, depicting the waters off Wellfleet in Cape Cod Bay, represents the largest piece ever I've ever created . That, combined
with the 52 prints selected for the treatment rooms, makes this the most comprehensive – and important – permanent collection of my career,"
says the artist. "But, it is far more than that. It is an opportunity to contribute to the healing environment of this amazing new Emergency Center,
and become a greater part of the community that is Cape Cod. I can only hope that I've succeeded in creating some sense of calm, and
in celebrating a sense of place, that was envisioned for this exceptional facility for all on Cape Cod."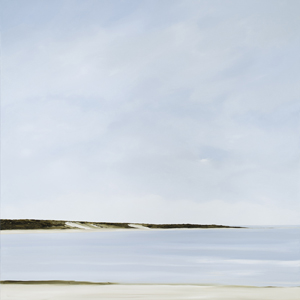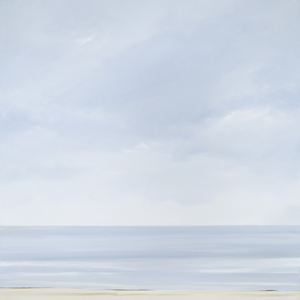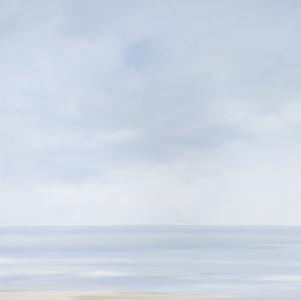 Home Free Public Commission
Oil on Canvas, 66" x 198" x 1.5
Bay Shore, Wellfleet
"This triptych is dedicated to all who enter here – patients, friends, family and staff – that it may provide
a sense of pause in urgency, and a sense of hope to all that they may leave feeling 'Home Free.'"
Rick Fleury
___________________________________________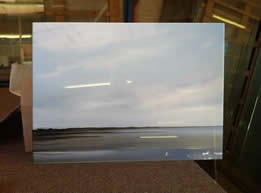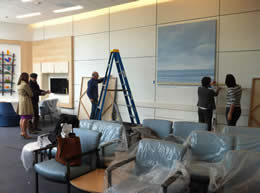 Installation of triptych and one of the 52 custom prints on acrylic for new treatment rooms
The Cape Codder: Wicked Local Cape Cod

Cape Cod Healthcare/Cape Cod Hospital
Hyannis, Massachusetts
Seamen's Bank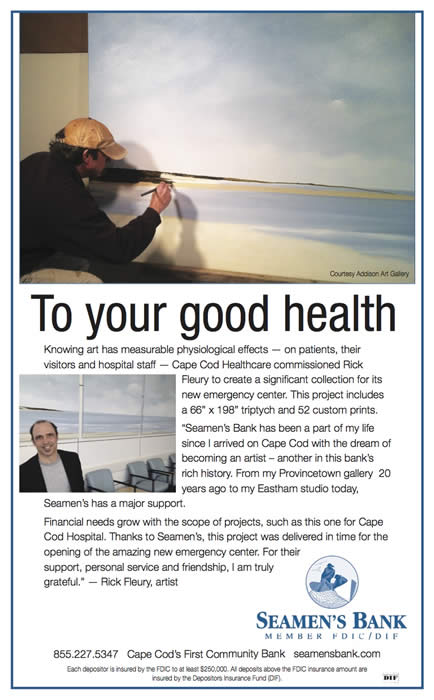 Seamen's Bank
Provincetown, Massachusetts
Garvey Rita Art: East Orleans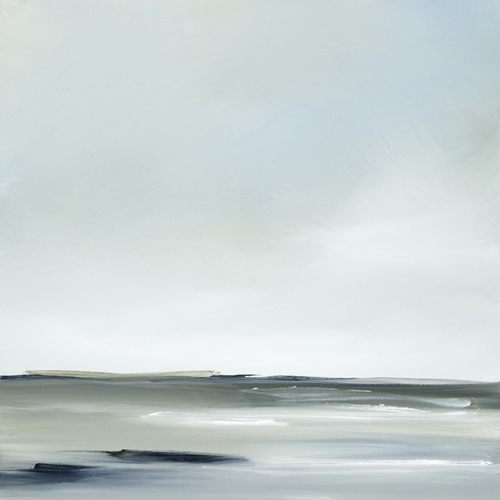 Untitled II Oil on Canvas 20 x 20 x 1.5   at Garvey Rita Art
Garvey Rita Art, of East Orleans, Massachusetts, formerly of West Hartford, Connecticut, has been representing selected works
by the artist for nearly a decade. The gallery recently featured the artist in a two-person show with noted landscape artist Eric Aho.
Garvey Rita has also featured the artist for several years at the Boston International Fine Arts Show. For current inventory and
availablity, visit the gallery online at garveyrita.com.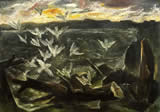 Garvey Rita Art & Antiques
East Orleans, Mass.
American Art Collector: A New Focus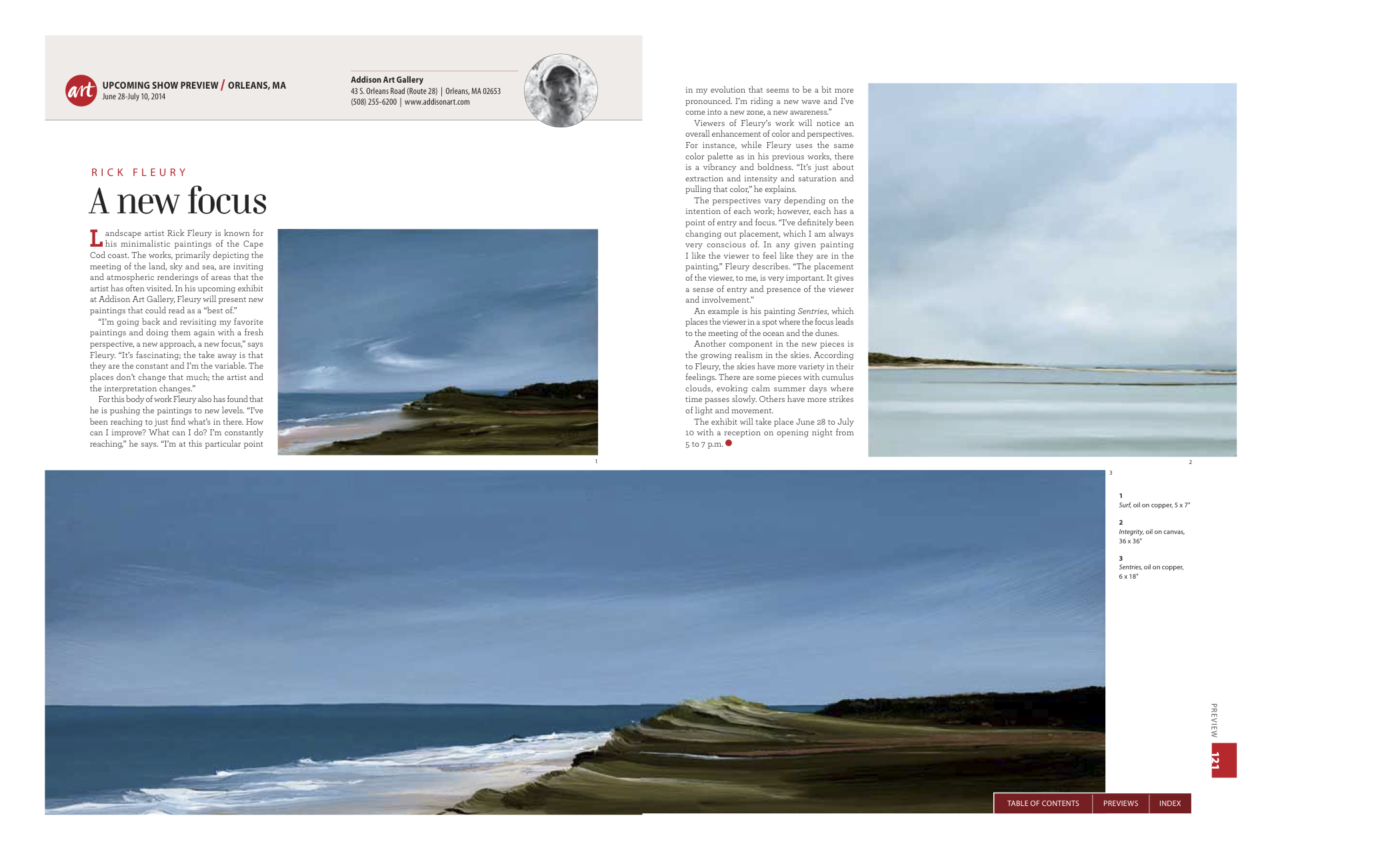 June 2014 Feature, American Art Collector
To read the feature in the June issue of American Art Collector click here.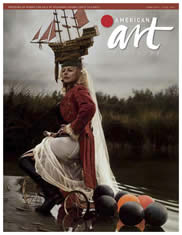 Courtesy American Art Collector

American Art Collector
Copyright ©2014
Outgoing Tide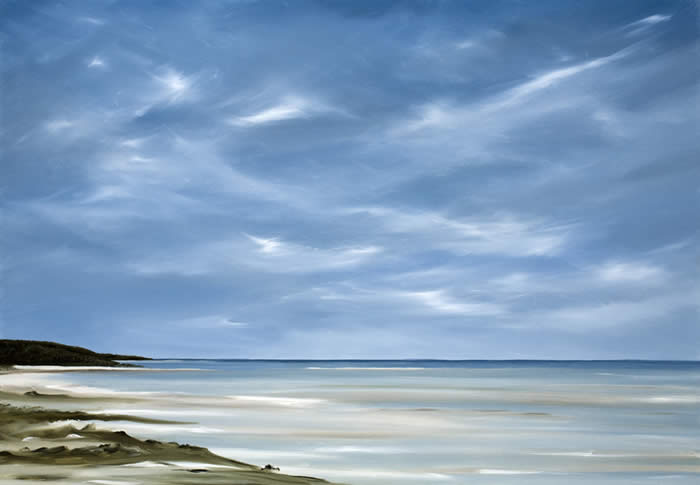 Outgoing Tide, Oil on Canvas, 32 x 46 x 1.5 Private Commission
Outgoing Tide, the artist's latest commission, depicts the indulating waters of an outgoing tide across the Brewster Flats,
as seen from the collectors' oceanfront property on Cape Cod Bay. The collectors have enjoyed the beauty of the flats
for many years, and wanted the scene to hang above the hearth in the main living area of their new Brewster retreat.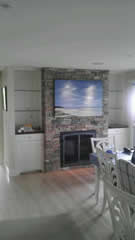 In its new home.
From the Collectors
My wife and I decided to commission an artist to paint the Brewster flats as seen from our new beach home on Cape Cod Bay.
After seeing Rick Fleury's work and speaking with him about the process, we quickly decided to work with Rick to create this painting
which would serve as the centerpiece for our main living area.
We are absolutely thrilled with the result! Rick did a masterful job of capturing the beauty and spirit of this scene, and the resulting painting is breathtaking.
Not only was the final product exactly what we had hoped for, but the process of working with Rick was fantastic.
He took the time to make several visits to our home, viewing the scene at different times of day and coastal tides.
He also spoke at length with us to find out what kind of mood, color, and composition we were looking for.
He allowed us just enough input while still preserving his ability to apply his own artistic vision.
We can't recommend Rick highly enough to anyone thinking about a commissioned seascape painting!
Steven and Paula Koppel
Brewster, Massachusetts
Grace's View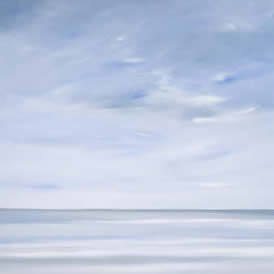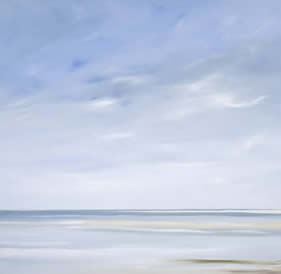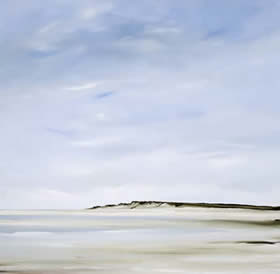 Grace's View, Oil on Canvas, 40 x 120 x 1.5 Corporate Commission
Grace's View, a 40" x 120" x 1.5" triptych capturing the outer beach at Highhead, Truro, was recently completed, and has been
delivered to Boston. The piece was commissioned by the Arts & Business Council of Greater Boston, to be used in its new
Corporate Lending Program. The piece has been installed at the offices of Lando & Anastasi LLP, a patent and intellectual property
law firm based in Cambridge, Massachusetts, where it will remain in the main reception area for one year.

The Arts & Business Council of Greater Boston, a chapter of Americans for the Arts, establishes a vital connection between Boston's
dynamic business and legal communities and Boston's lively arts and cultural communities. The mission of the Arts & Business Council
is to strengthen a vibrant arts community by providing quality direct legal and business services and ongoing educational programs to the artists
and cultural organizations within Massachusetts. There are more arts and cultural organizations in Boston, per capita, than in any other
metropolitan area of the country.

Arts & Business Council of Greater Boston
Boston, Massachusetts
American Art Collector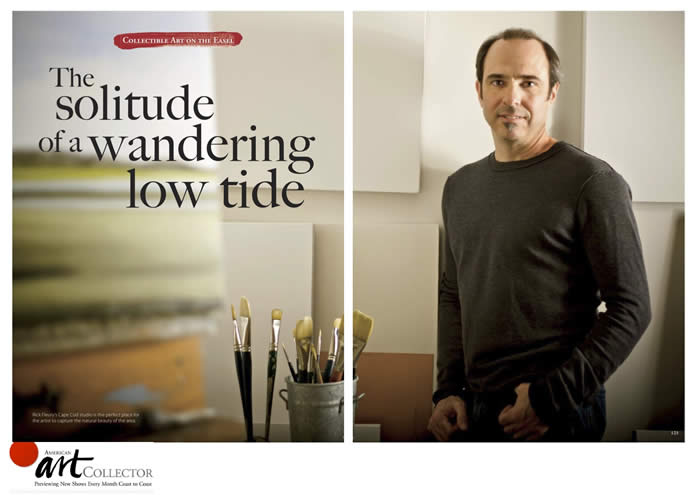 For complete feature, click here
Cape Cod Life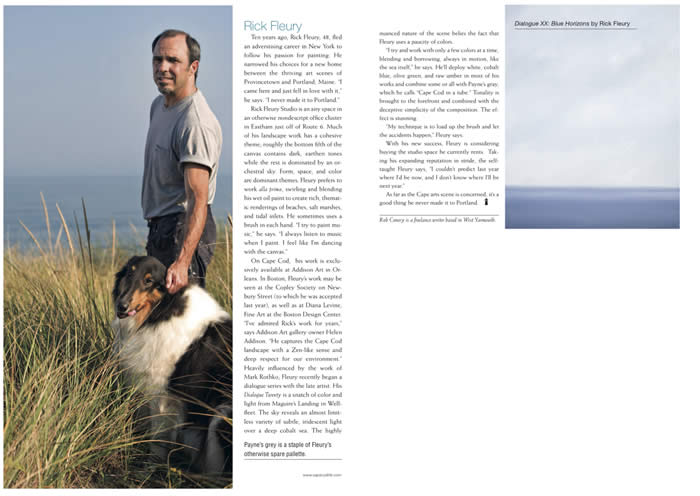 For complete feature, click here.
The Teich Group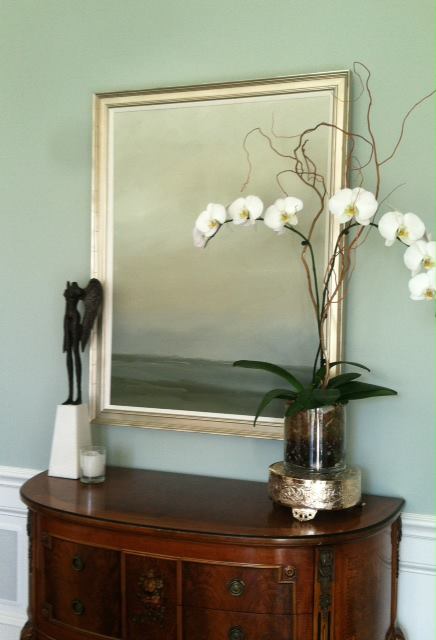 Photo courtesy of The Teich Group Private Collection
Dialogue X, a 40" x 30" oil on canvas, part of the artist's "Rothko Dialogue Series," gets a classic touch in a client's home
of The Teich Group, an award-winning interior design firm based in Royal Oak, Michigan. The painting was selected for the
client by one of the firm's principal designers, Stanley Leczner.

The Teich Group
Royal Oak, Michigan
Nauset View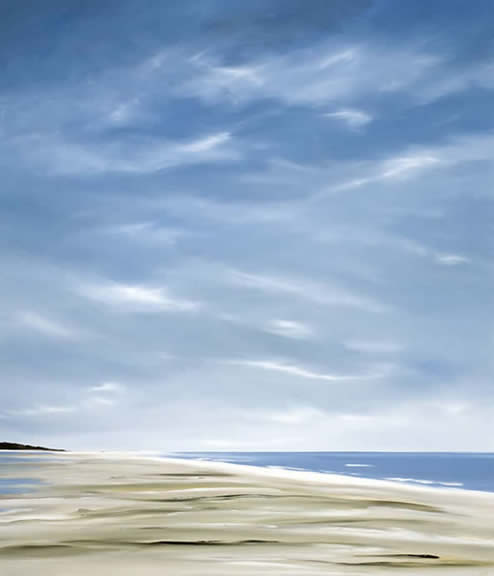 Nauset View, Oil on Canvas, 54 x 46 x 1.5 Private Commission
Nauset View captures the spectacular view looking north from the collector's oceanfront property on Nauset Heights
in Orleans, the location of their new summer home. The couple commissioned the artist to interpret the view on canvas for
their primary residence in Andover, Massachusetts – so they could enjoy their Cape Cod view year-round.
The large piece, sized to fit existing architectural detailing, was framed in a dark, floater frame.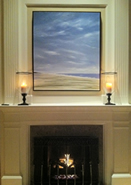 Nauset View, installed.
Winter Ice
Winter Ice (II), Oil on Canvas, 40 x 40 x 1.5 Private Commission
Winter Ice, capturing East Harbor, Provincetown in a frozen, mid-winter setting, was commissioned for a private residence
in Aspen, Colorado through the Copley Society of Art. The 40" x 40" x 1.5" piece was created for the Great Room of the Aspen home.
Cape Cod National Seashore


Landmark Oil on Copper, 6 x 18 Sold
Rick Fleury: Images and Remembrances of the National Seashore, a multi-media presentation, with Mass Audubon
Senior Naturalist Dennis Murley, was offered at the Cape Cod National Seashore as part of their 50th Anniversary Celebration
of talks and events. The discussion took place Saturday, October 8, 2011, at the Seashore's Salt Pond Visitor Center.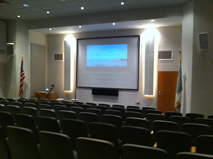 The artist shared his views of the Seashore as an environmental milestone and artist inspiration, with historical and ecological insights from Murley,
a native Cape Codder. Murley's work with Mass Audubon spans more than 26 years. His continuing efforts with whales, seals, sea
turtles, osprey and other rare and endangered species of the Outer Cape, have been featured in Smithsonian Magazine, USA Today,
The Boston Globe and National Public Radio.
Below, Cape artists collaborate in a group exhibiton at Addison Art Gallery to celebrate the National Seashore – Featured in Cape Cod Magazine.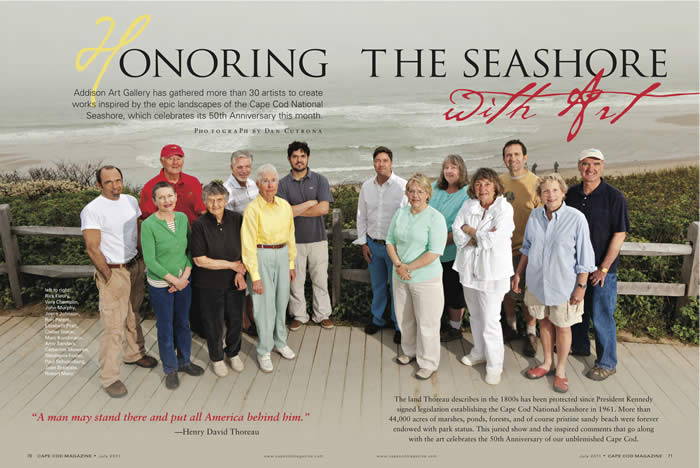 For complete feature, click here.

Cape Cod National Seashore
Eastham, Massachusetts
Copley Society of Art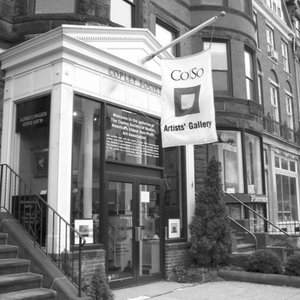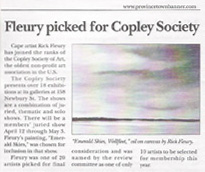 The artist joined the ranks of the Copley Society of Art, by invitation, in the fall of 2006. CoISo is the oldest non-profit art association in the United States.
Established in Boston in 1879 by the first graduates of the School of the Museum of Fine Arts, artist membership is based on competitive review,
and opens doors to representation at the Newbury Street gallery, comaraderie and gatherings among fellow artists, opportunities for education,
outreach, juried exhibitions, and a professional credentialing system offering artists opportunity for further distinction throughout their professional career.
For feature in New England Magazine, click here.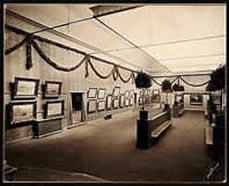 Copley Society Exhibition of Claude Monet, Boston, 1905
For more information on the Copley Society of Art, visit copleysociety.org.

Copley Society of Art
Boston, Massachusetts
Inspired by Cape Cod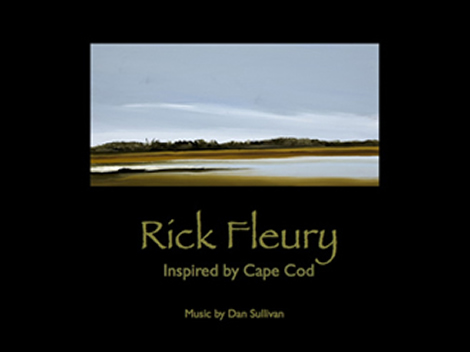 Watch this video on the ways this artist strives to share the peace and abundant beauty
found in the natural world so that it may be preserved and valued for all time. The video
was independently produced by Studio 14, the artist's production and marketing studio.

Cape Cod Magazine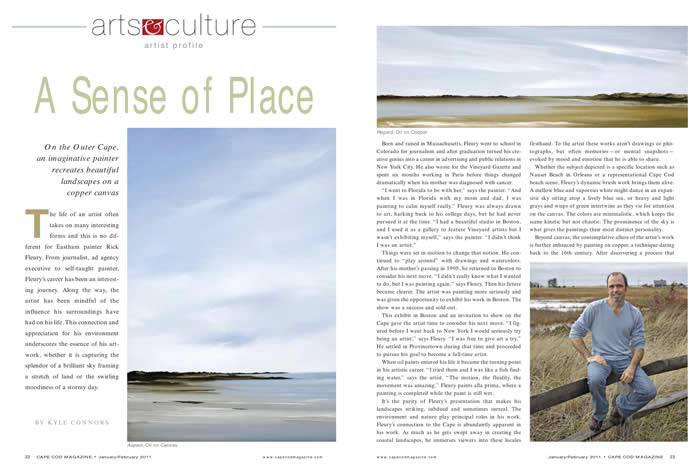 For complete feature, click here
Mother's Song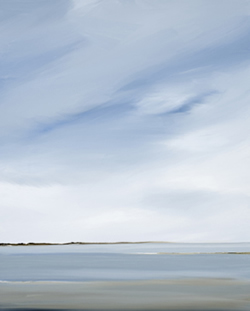 Mother's Song
Oil on Canvas, 30 x 48 x 1.5 Corporate Commission
Mother's Song was commissioned by Dana-Farber/Brigham and Women's Cancer Center, for its newest facility in
Southeastern Massachusetts, the Dana-Farber/Brigham and Women's Cancer Center at South Shore Hospital. The
South Weymouth facility expands the network of services for the nation's leader in cancer treatment and cutting-edge
research.
The diptych is dedicated to the artist's mother who died from ovarian cancer in 1995. Mother's Song hangs permanently
in the women's wing, with an identification plaque that reads: In Loving Memory of Jeannette M. Fleury, 1932 - 1995.

Dana-Farber/Brigham and Women's Cancer Center
South Weymouth, Massachusetts
Cause & Effect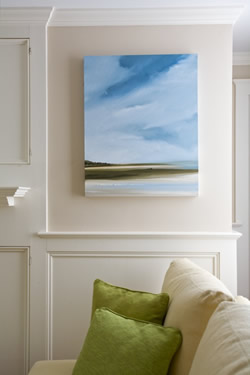 Cause
Oil on Canvas, 30 x 24 x 1.5 Private Commission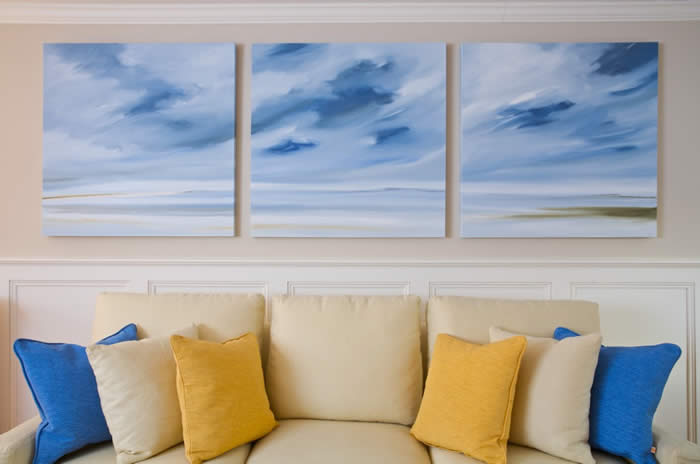 Effect
Oil on Canvas, Triptych, 36 x 108 x 1.5 Private Commission
Cause & Effect, the artist's largest private commission to date, is a contemporary interpretation of Osterville Harbor
and Nantucket Sound commissioned for a private home in Osterville, Massachusetts. The four-piece installation
serves as the centerpiece for the main living area of the home. Custom furnishings and accessories were created
to compliment the piece.
Photos: Dan Cutrona
Ross' Cove
Ross' Cove, Oil on Canvas, triptych, 30 x 90 x 1.5 Private Commission
Ross' Cove, a 30" x 90" triptych of Nauset Marsh, was commissioned for a private home in East Orleans, Massachusetts.
The sweeping view incorporates the vista seen from the waterline of the collectors' extraordinary beachfront property.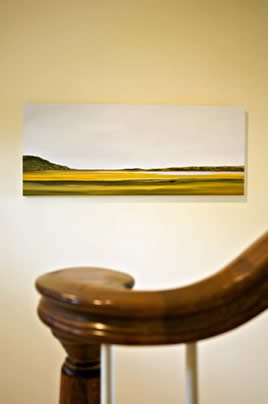 Headland, Oil on Canvas, 20 x 50 x 1.5 Sold
A second piece, Headland, greets guests in the home's elegant entry.
Photos: Dan Cutrona
The Ritz-Carlton, Dallas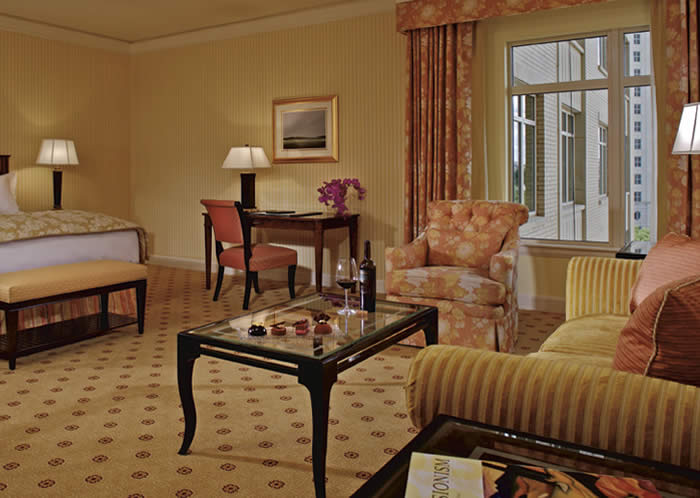 A Junior Suite at The Ritz-Carlton, Dallas, with Grey Skies over the writing desk. Photo courtesy of The Ritz-Carlton, Dallas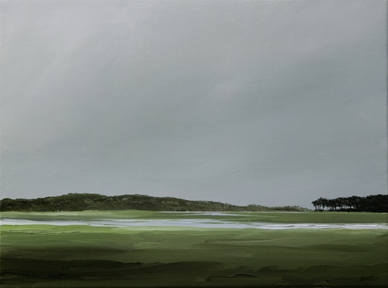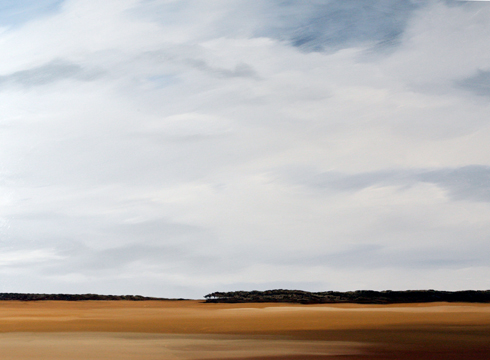 Grey Skies Amber Waves
Two limited-edition prints were created exclusively for 218 rooms of The Ritz-Carlton, Dallas Luxury Hotel.
The images were selected by a Boston architectural and interior design firm. All were signed and numbered
by the artist.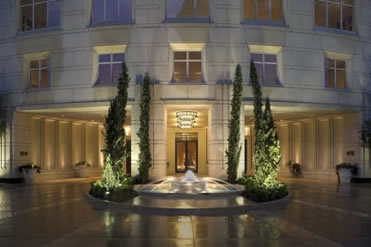 The hotel complex in downtown Dallas, including private residences, a restaurant, and full-service spa,
has been ranked No. 1 Large Hotel in the United States, and No. 1 in Hotel Dining,
by Zagat Hotels and Guide Michelin surveys.

The Ritz-Carlton, Dallas
Dallas, Texas
Archives
Patio Restaurant & Bar, Provincetown
Wellfleet Blossoms Workshop 2014
Art & Design: Talks with Designer Linda Merrill
Copley Society Solo Show 2008: 29 Newbury
Cape Cod Museum of Art Solo Exhibition, 2006
Boston International Fine Art Show
American Art Collector Feature, 2007
Cahoon Museum's Twenty-five for Twenty-five
Solo Exhibition: Addison Art Gallery 2014
An Orleans Old-Fashioned Christmas
Steinert Hall, Boston with Michelle Kelley
"Banner" Year at AddisonArt, Orleans